Our hand-made soaps made from Extra Virgin Olive Oil continue to be produced in the Nikolaou Family soap lab for the past 100 years. Our soaps are made using traditional techniques and methods, without the use of any chemical substances or mechanical equipment.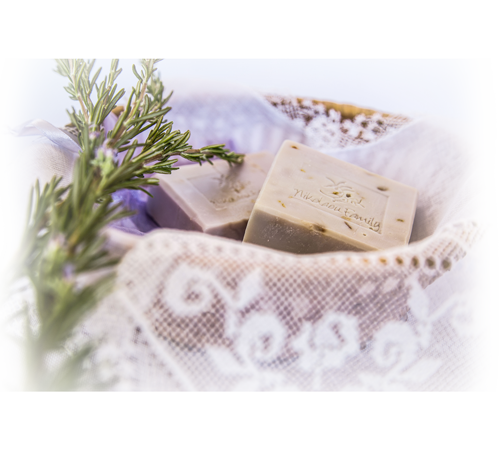 The equipment in the soap lab is minimal as our soaps are handmade and the tools required are very few. A large pot is used to mix the ingredients along with various stirring equipment, containers, sieves, moulds and knives to cut the soap. The recipe for the soaps has remained widely the same for over a century and passed down from generation to generation in a strictly family affair. The soaps contain: Extra Virgin Olive Oil, rain water, caustic soda, salt and a huge variety of herbs, spices, essential oils and others that stimulate our smell or intrigues us.
With respect to tradition
"The traditional boiled soap is made using Grandma Eleni Nikolaou's traditional soap recipe. During and right after the 2nd World War she would boil soap from the olive oil sediment in the mill and use these to support her family. Her soaps were widely sought after in the shops of Piraeus and were engraved with her initials N.E."
Cold method soaps are produced in our soap lab using pure and natural ingredients that are weighed with precision. Using a lot of patience, the ingredients are mixed at a low temperature (under 27°C) until they tighten and are then poured into a mould for 2-3 days. We then let them rest for 4-6 weeks before being placed in their packaging.
Using Grandma Eleni's recipe, we place all the ingredients in the pot and boil at a very low temperature for many hours. The foam is removed from the top of the mixture continuously until the oil is clear. After it clears we sieve the result and wait 1-2 days until they are tight enough to cut through. They dry quickly and are ready for everyday use.